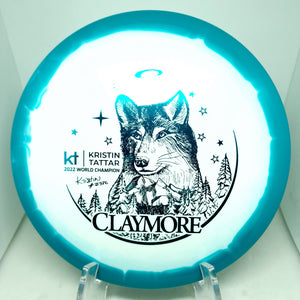 Claymore (Gold Orbit) Kristan Tattar Team Series
Claymore Neutral Midrange
Speed 5/ Glide 5/ Turn -1/ Fade 1
The Claymore has a small dome and comfortable grip combined with a neutral flight that will suit most players. Straight, left or right, doesn't matter. This disc can do it all.
About Gold:
Gold Line is Latitude 64's premium blend plastic. The start of the mix has been the same brand plastics used in Opto Line but they added a different polymer to give it better grip without losing the excellent durability of Opto Line.

About Orbit:
Orbit is our spectacular two-color process that opens up a whole new world of color combinations.