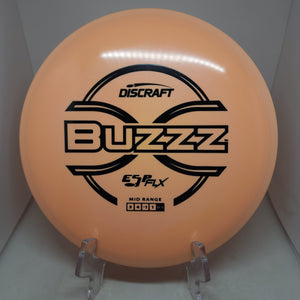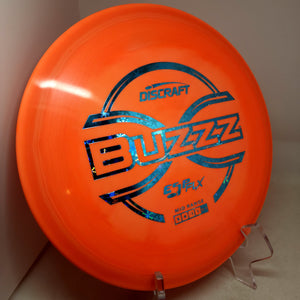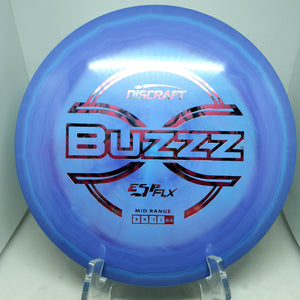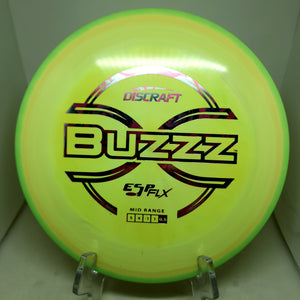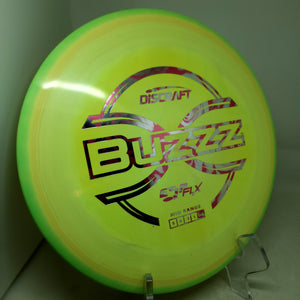 Buzzz (ESP FLX)
Buzzz Midrange
Speed 5/ Glide 4/ Turn -1/ Fade1        Discraft 0.5
Mid Range
The Buzzz is Disc golf's most popular midrange due to its consistency and compatibility with a wide range of players. Its comfortable feel in the hand allows for both fan grips to dial in some accuracy or power grips to push further down the fairway. Buzzz's are torque resistant and can carve up a variety of wonderful flight paths. The Buzzz is a low profile modern midrange that is the gold standard for straight to stable flights players can trust.
The Buzzz is responsible for helping build the foundation for many top level pros and is still a staple in their bags. These pros include Paul McBeth, Chris Dickerson, Paige Pierce, Nate Doss and many more! On the flip side of the coin it has helped countless beginners learn to throw with proper form as it is an amazing tool that will show your mistakes but in a less forgiving way.
This blend combines two of our customer's favorite plastic  types: FLX & ESP. With Z FLX no longer in production, we are excited  to combine the durability of FLX with ESP's comfortable feeling and  vibrant swirls.

Providing an  impressive grip, these discs will maintain their structure and stability  to be enjoyed all year long. This new addition to our lineup will be great for all weather conditions, especially colder climates.